Historic first-time gathering of DPEs
On October 26-27, 2021, FSANA hosted its 1st Annual Designated Pilot Examiners (DPE) Symposium in Nashville, Tennessee. A historic first for providers of testing to airmen in the United States, the event brought together a significant representation of DPEs from all around the country to discuss examiner policies, training integration of flight training providers, and testing providers.

Trey McClure, manager of the FAA Delegation Program Branch, lead a group of FAA team members during the symposium. Panelists came from across America to share their information and knowledge. McClure told the attendees that he along with the FAA is committed to continuing to work with FSANA and the industry to make the required improvements to the airmen testing system.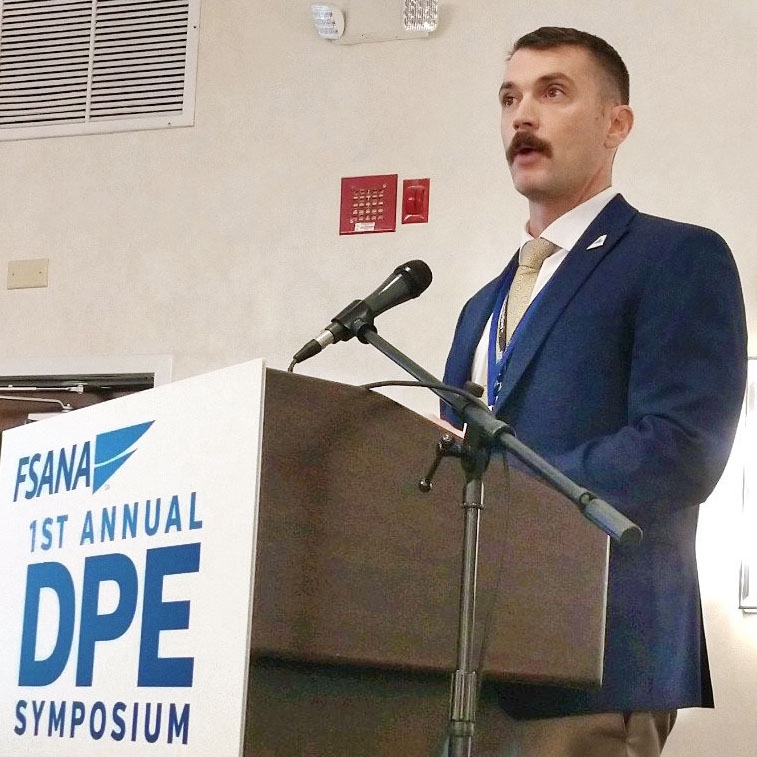 The event kicked off with an open forum with representatives from the FAA DPE standardization and oversight branches and then proceeded to include a forum discussion on how new DPEs are selected and what people who might like to be one need to know. Continuing on through the event attendees and presenters discussed topics including the business models and integration of DPEs and working with flight training providers, updates from the FAA on numerous policy areas that affect test provision, and various tips and tricks for DPEs to be more efficient in the work they do with the aviation community.

right: Jason Blair, pilot recruiter for Piedmont Airlines, addresses symposium attendees.

FSANA is humbled to have had representation from throughout the United States with over 70 DPEs and future DPEs in attendance from all over the country including Hawaii and Puerto Rico. Bringing this segment of the flight training community together is the start of what FSANA hopes will be a long-term positive impact to help the flight training community integrate better with the testing providers.

"It really is groundbreaking to bring all these DPEs together," said FSANA President & CEO Bob Rockmaker. "There is a significant amount of information that can be shared between DPEs around the country. Never-ending improvement leads to ongoing success. With more integration with the FAA and with DPEs around the country, I am confident that our industry will continue to improve the testing quality and availability throughout the national airspace system."

Designated pilot examiners (DPEs) form the backbone of the airman practical testing system in America. There are over 800 DPEs in the designee system and they are responsible for providing over 40,000 airman practical tests each year. The value of the DPEs services is paramount to the success of the training flow within the United States and FSANA thanks those who were in attendance for joining us and for providing their input for this first-time event. FSANA expects to build upon this work and provide support to the DPE community going forward.
---
Program
Tuesday, October 26, 2021
10:00 Registration opens
12:30 Open Forum with FAA
2:00 How to Become a DPE
3:00 Airman Designee Program Update
3:30 Suspension, Termination and Appeals Process
4:30 Lets Talk Money
5:30 Reception
Wednesday, October 27, 2021
8:00 Registration opens
8:30 Opening Remarks
9:00 FAA Update
10:00 Break
10:30 Tips & Tricks of DMS and IACRA for DPEs
11:15 Delivering Good Customer Service and Quality Practical Tests
Noon Lunch
1:30 Plans of Action Details and Management
2:00 How Flight Schools and DPEs Can Team Up for Success
2:30 Break
3:00 When Something Goes Wrong (What Do I Do Now and Who Should I Tell?)
3:45 Determining the Disapproval: How to Manage Applicant Notification and Next Steps
4:30 Closing remarks and adjournment

---